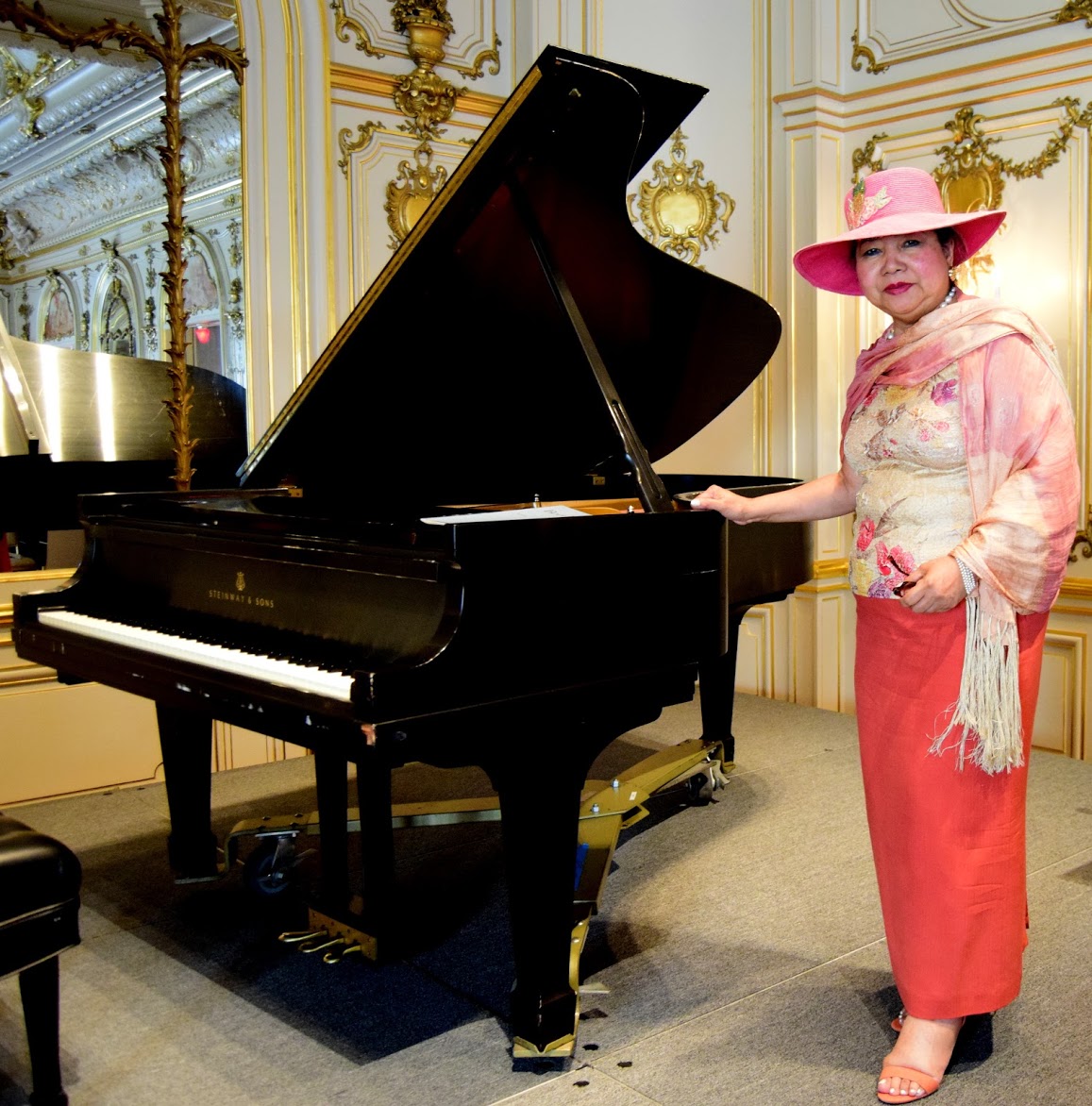 Chateau Gardecki stands before the piano preparing for the final round of the 16th Washington International Piano Artists Competition
at The Cosmos Club, Washington, DC, August 5, 2018..
WIPAC PIANO COMPETITION UPDATE
(click on underlined links below to open files containing valuable information)
Checkout FestivalDC.COM for reviews and photos of the Piano Competition or
See WIPAC's Press Corner
♫2018♫
16th Washington International Piano Artists Competition
FIRST PRIZE WINNER
Yiran Wang
$3,000 GRAND PRIZE

GRAND PRIX CONCERT IN INTERNATIONAL EMBASSY
IN WASHINGTON, DC

SOLO RECITAL
IN WASHINGTON, DC
SECOND PRIZE WINNER
Jeni Kong
$2,000

THIRD PRIZE
Jeanne Craig
$1,000
HONORABLE MENTION AWARDS
Joseph Lipare, Simon Finlow
Anqi Wang
$250 EACH
SPECIAL AWARDS
$250 EACH as BELOW

MOST IMAGINATIVE PROGRAMMING
Paul Kosak
Chopin
Chopin's Students Composers
Spiritual Descendants (Paderewski)

ROMANTIC PERIOD
Simon Finlow
Balakirev Mazurka No. 5, in D

BAROQUE PERIOD
Martin Gallegos
Domenico Scarlatti Sonata in B minor, L. 33

CLASSICAL PERIOD
Jeanne Craig
Haydn Sonata in E-flat major Hob.XVI:52 1st Movement

COMTEMPORARY PERIOD
Martin Gallegos
Martin Gallegos, "Impromptu"

PRESS JURY AWARD
Jeni Kong
AUDIENCE AWARD
Yiran Wang
BACH PERFORMANCE
Jeanne Craig
Prelude & Fugue C major, WTCII
Prelude & Fugue in G-sharp minor, WTCI

MOZART PERFORMANCE
Jeanne Craig
Sonata in F Major, K332, 1st Movement
BEETHOVEN PERFORMANCE
Jeni Kong
Sonata Op 78, 1st Movement
CHOPIN PERFORMANCE
Yiran Wang
Ballade No. 4, Op. 54
LISZT PERFORMANCE
Yiran Wang
Apres une lecture e Dante

RAVEL PERFORMANCE
Keiko Kircher
Sonatine
SPENCER HUFFMAN PERFORMANCE
Toshe Temelkov
LATIN AMERICAN COMPOSER
Joseph Lipare
Astor Piazolla:"Oblivion" Tango
Angel Villodo:"El Choco" Tango
Click this link to see a list of downloadable video recordings of the 16th Piano Artists Competition
(HELPFULl NOTE: It is best to download mp4 video files to your local storage device for proper viewing of
VIDEO (mp4) RECORDINGS. To learn the compositions performed in each round by a performer, refer to the OFFICIAL PROGRAM linked here below. Be sure to refresh website pages and pdf files each time you use them, to obtain the most recent updates within these files. Another method to do that: CLEAR HISTORY from your browser, then reload the website pages and links.)
2018 Washington International Piano Artists Competition OFFICIAL PROGRAM
HELP/QUESTIONS: Contact WIPAC by email (see bottom of this page).
************************
Become a Friend on Facebook at: WIPAC WIPACUSA
Pianists and Friends love this space -- no politics, please, just friends of music---Become a part of a worldwide family with a common interests. We love to hear about your concerts and presentations, especially from those who have participated in WIPAC's Piano Competition.
________________________